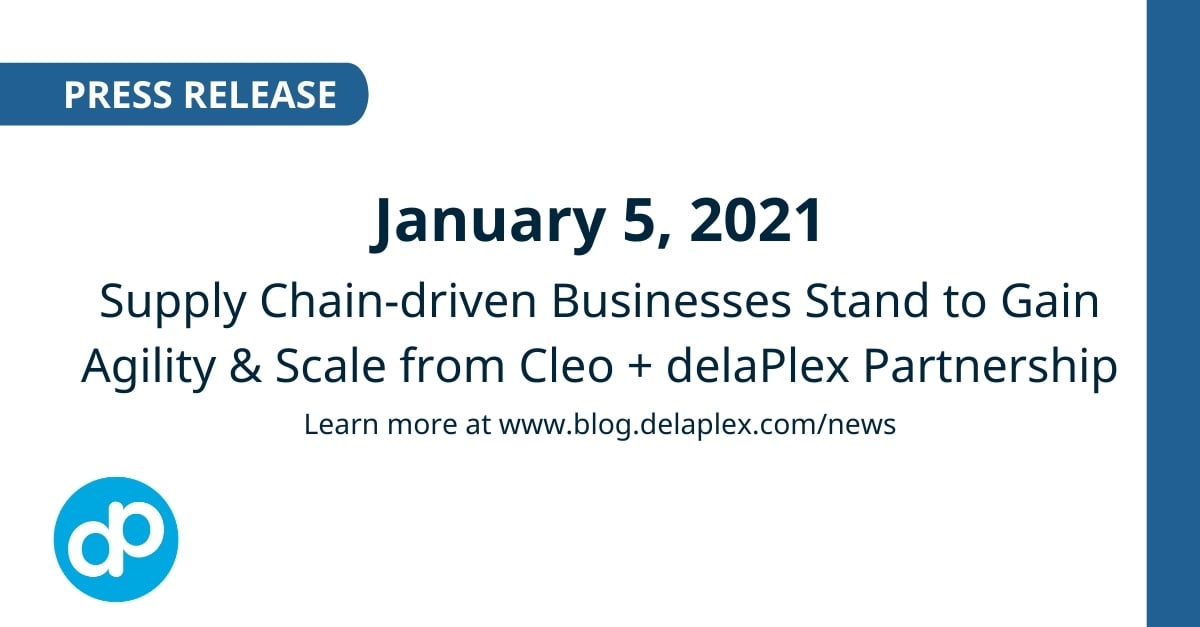 Supply Chain-driven Businesses Stand to Gain Agility & Scale from Cleo + delaPlex Partnership


ROCKFORD, Illinois and ATLANTA, Georgia – January 5, 2021 -- Cleo, the global leader in ecosystem integration software solutions, and delaPlex, a trusted advisor and provider of technology outsourcing solutions, today announced a new partnership focused on helping businesses across industries digitally transform their supply chains through ecosystem integration and optimized business processes.
With proven expertise in software development, cloud services, and data science solutions, delaPlex delivers strategic, intelligent, and cost-effective ways for supply chain driven companies to scale their business and outpace demands from an increasingly competitive marketplace.
For its part, Cleo's flagship cloud platform improves an organization's operational intelligence and control with real-time, end-to-end visibility across business processes and key integrations connecting trading partners with core business applications like enterprise resource planning (ERP), supply chain management (SCM), and transportation management systems (TMS).
The Cleo Integration Cloud (CIC) integration platform, alongside delaPlex's custom software development services and consulting reach, will serve clients through the mix of expertise around ecosystem integration and technology services.
In speaking to the value of the new partnership, delaPlex CEO Manish Sachdeva said, "This new partnership with Cleo introduces our clients to advanced ecosystem integration solutions that, combined with delaPlex's expertise, will make operating a supply chain efficient and scalable, creating immediate value. Together, we offer an opportunity to meet the rapidly evolving needs of today's most complex and globally dispersed digital ecosystems."
Cleo CEO Mahesh Rajasekharan, echoed those sentiments, saying, "Now more than ever, fast-growing companies need what both delaPlex and Cleo have to offer -- deep supply chain process expertise and ecosystem integration know-how. Today's rapid acceleration of eCommerce is changing everything: Manufacturing supply chains are shifting toward a 'direct to consumer' model; logistics companies must respond faster; and warehouse and distribution businesses are caught in the middle. Traditional B2B integration solutions are outdated for these modern times. Only those companies adopting an ecosystem integration approach, with its end-to-end business-process visibility, unique ability to do both API and EDI integrations from a single platform, and a choice of self-service, managed service, or a blend of both, will be able to keep up with the pace of rapid change."
For more information about the Cleo and delaPlex partnership, contact either of the companies through the methods below.
About delaPlex
delaPlex is a global custom software development and business solutions provider. Since 2008, we've been focused on enabling business growth through scaling development capabilities. Comprised of three separate, yet complimentary business divisions: Development Services, Supply Chain Consulting, and Cloud Services, delaPlex is committed to providing organizations the expertise and support they need to reach their business goals. For more information, visit www.delaplex.com or call +1.404.876.3334 x1.
About Cleo Integration Cloud
Cleo Integration Cloud (CIC) is a cloud-based integration platform, purpose-built to design, build, operate and optimize critical ecosystem integration processes. The CIC platform brings end-to-end integration visibility across API, EDI and non-EDI integrations that gives technical and business users the confidence to rapidly onboard trading partners, enable integration between applications, and accelerate revenue-generating business processes. On the platform, businesses have the choice of self-service, managed services, or a blended approach – ensuring complete flexibility and control over their B2B integration strategy.
About Cleo
Cleo is an ecosystem integration software company focused on business outcomes, ensuring each customer's potential is realized by delivering solutions that make it easy to discover and create value through the movement and integration of B2B enterprise data. Cleo gives customers strategic, "outside-in" visibility into the critical end-to-end business flows happening across their ecosystems of partners and customers, marketplaces, and internal cloud and on-premise applications. Our solutions empower teams to drive business agility, accelerate onboarding, facilitate modernization of key business processes, and capture new revenue streams by reimagining and remastering their digital ecosystem through robust application, B2B, and data integration technologies. For more information, visit www.cleo.com or call +1.815.282.7695.
Access the original press release here: Supply Chain-driven Businesses Stand to Gain Agility & Scale from Cleo + delaPlex