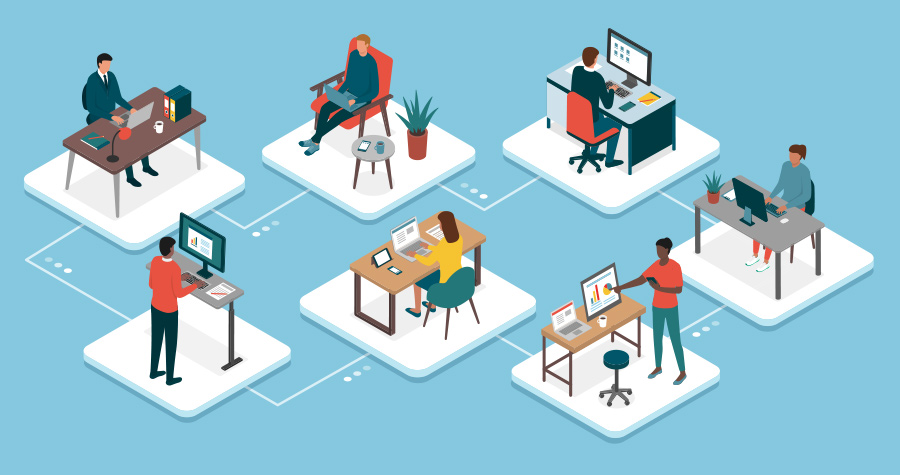 Tech companies are expected to keep up with the ever-changing market, trends, and emerging technologies on a near-continuous basis. The question is how? Read on to learn how in-house engineering teams can leverage outsourcing for support and scalability.
A recent Enterprise Technology Research survey of 1,000 CIOs found that 10% of CIOs have decided to make permanent cuts to their budgets. Regardless of budget cuts, there's no indication that projects are slowing down.
Supporting Your In-House Team Through Outsourcing
While engineering teams are no strangers to budget cuts, the impact of 2020 has brought unprecedented changes across the business landscape. More than ever, traditional in-house software engineering teams need support.
Most engineering teams aren't experts in all methodologies or all programing languages, it's not scalable. The only way to keep up requires expertise across multiple languages and methodologies. It's not realistic to expect in-house teams to be experts across all things engineering.
Software development team leads lean on the methodologies, languages, skillsets, and talent available to them. If project needs and an in-house team's talent and skillsets don't always align, this can leave team leads feeling stuck between a rock and a hard place.
When a project's requirements don't quite fit the development team's abilities, projects and institutions may experience significant cost overruns, a huge change log, or even failure of projects. Most organizations have a 70% project failure rate. Rarely a reflection of the team, when projects fail it's usually a reflection of how quickly companies and teams need to pivot to address the issues at hand.
Focus and Flexibility
It's important to foster growth and have internal teams stay up-to-date on their skillsets and trends. Your in-house team has organizational knowledge and by working with outsourced teams, in-house engineers can focus on core projects and products.
It's important to focus time and money on what's needed most. Outsourcing helps in-house teams focus while also being flexible enough to address requirement or scope changes.
Why delaPlex?
delaPlex was founded by engineers who experienced the issues of software development firsthand. We're passionate about software development and helping our clients.
We have also seen how powerful a well managed global agile team is. Making sure everyone's on the right page is a challenge, but it's a challenge we specialize in solving.
Our combined experience is what shaped our Agile Business Framework™, which includes:
The delaPlex Core Team™ A resource strategy built around retaining a small dedicated team at all times, even during times of contraction. When development demands increase, your Core Team is ready to accelerate the learning curve for any new team members.

The delaPlex Tech Bench™ is comprised of top talent with a wide range of skills ready to pivot with your ongoing business needs. Quickly scale your team up or down, or transform its skillset makeup at a moment's notice. Access to technical consultants who act as your in-house advisors.

The delaPlex Resource Alliance™ is global talent network spanning geographical and cultural boundaries. This fosters an agile and collaborative culture. Trust and communication are the foundation of any successful project, on-shore project managers, vigilant communication protocols, and the latest collaboration tools support our helps talented team succeed.
Since 2008, we've helped hundreds of institutions deliver their products and services. Check out our Case Studies page to learn more.
Want to learn more about how delaPlex can help you? Contact us today to start the conversation.