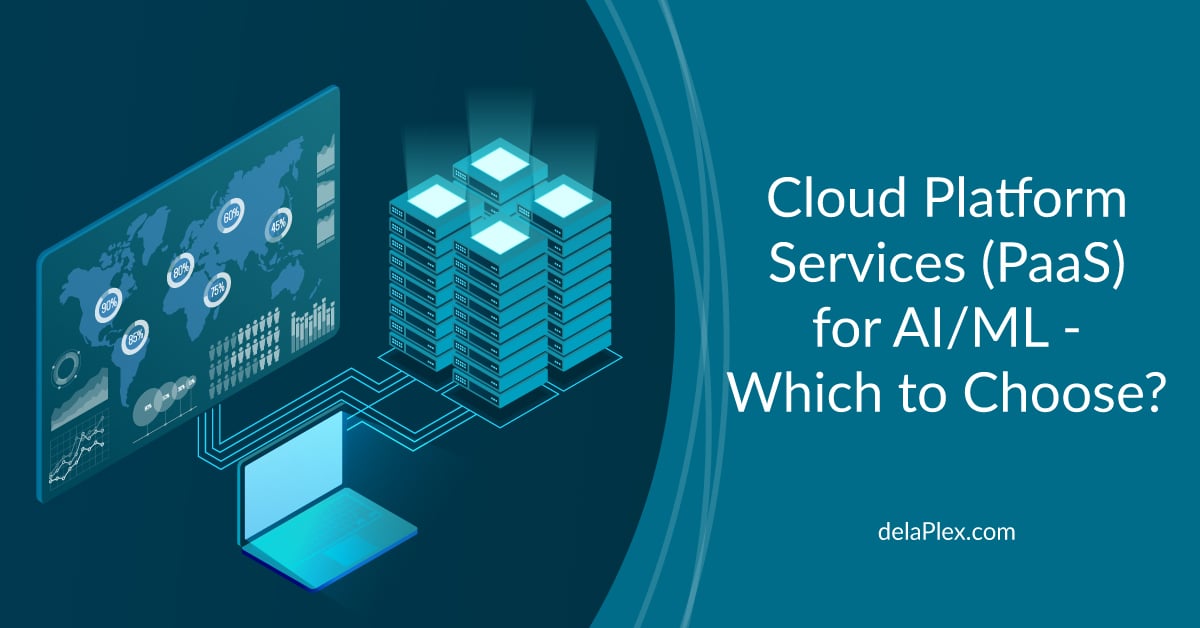 While the choices can seem bewildering at first glance, there are three big players in the Platform as a Service (PaaS) and Infrastructure as a Service (IaaS) markets: Amazon AWS, Google Cloud Platform, and Microsoft Azure.
All of these services offer scalability (read: control costs by not having to overbuy capacity) and multiple availability points for uptime and reliability. However, they aren't completely interchangeable, and one service may suit your needs better, or a mix of two, depending upon your situation.
Microsoft Azure
Microsoft has invested heavily in AI, and offers machine learning, bot services, and cognitive services via its Azure platform.
Microsoft Azure is a natural choice for enterprises who are already partnered or heavily invested in Microsoft offerings. Azure naturally provides a graceful integration with Microsoft's now cloud-based software packages, like the Office suite. All of your existing .NET codebase will work on Azure, and it integrates well with a wide variety of legacy data center setups to help bring you into the cloud. While pricing can be confusing, enterprises who are already using Microsoft products can expect discounts.
On the downside, there have been some complaints about reliability, speed of implementation, and the quality of customer support, which hopefully Azure will grow out of.
Recommended for: companies that are end-to-end Microsoft in their development work and daily operations.
Amazon AWS
First into the market, Amazon AWS offers a breadth and depth to its cloud services and AI/ML offerings that are difficult to beat, as well as the world's most comprehensive network of data centers.
Amazon's flexibility and wide list of offerings help it hold its place as the market share leader, for everyone from agile startups all the way to enterprise. They continue to innovate daily, and are making further inroads into character, image, and object recognition. An open-source deep-learning library called Gluon helps developers train neural networks without having to know AI programming.
One of the challenges with AWS is its pricing structure. While Amazon proudly touts that they have lowered prices repeatedly, it's still easy for a fast-growing enterprise to see costs quickly start to mount, and to find it difficult to understand the labyrinthine pricing structure to better balance usage.
Recommended for: Small to enterprise-size companies looking for a provider who has everything from soup to nuts when it comes to artificial intelligence and machine learning.
Google Cloud Platform
Despite its internal focus on AI for Search, Google Cloud Platform is the relatively new kid on the block when it comes to PaaS/IaaS offerings for enterprise. Google is huge on AI and Machine Learning, and has built its cloud on this strength and on their background in scaling.
Google's strengths in this arena include plenty of cash for ongoing investment, and APIs for natural language, speech, translation, etc. Its TensorFlow open source software library for building machine learning applications is highly regarded. Google has made a point of being competitive on price, using flexible pricing and deep discounts to lure customers away from its competitors.
Of concern is the fact that Google lacks the background in supporting enterprise that both Amazon and AWS have, but they have partnered with Cisco, which DOES understand the needs of large enterprise clients. And they are growing and changing rapidly, so it's important to keep looking at Google Cloud Platform, even if you have rejected them due to past insufficiencies.
Recommended for: Small Web-based startups that need excellent scalability as they grow and budget-friendly pricing.
Source: "AWS vs. Azure vs. Google: Overall Pros and Cons," Datamation.
Still confused? Get help.
If this is all still confusing, and let's face it - choosing a provider is a huge investment of time and money, and it's costly to back up and start over - delaPlex can help by analyzing your needs, recommending a solution that will fit your project both today and tomorrow, and assisting with implementation. Learn more about how delaPlex deployed Amazon AWS and Google Cloud Platform to create a visual product search engine for a client in this case study.