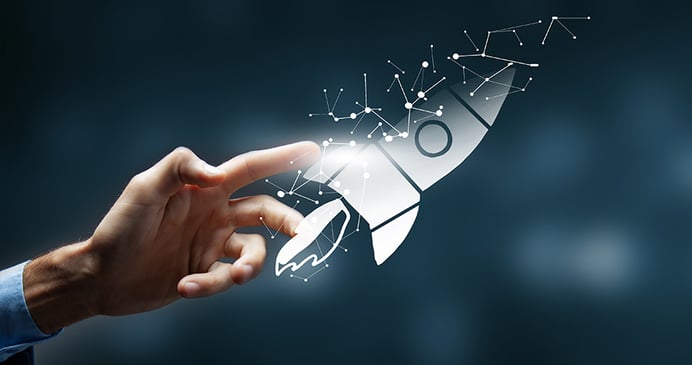 When you embark on a brand new business venture, you typically embrace the usage of fresh, innovative technologies. These inform and manage the operations, culture, and customer experiences that enable your startup to meet constantly-changing business and market requirements.
The success of your startup depends on more than just deploying suitable software. It requires integrating the technology into your business processes to fundamentally impact operations, deliver more value to customers, and enhance performance overall.
To achieve this, your business needs to be able to grow and shrink production in response to fluctuations in demand. In other words, you need to make scalability a part of your startup from the outset.
What Is Scalability
According to Gartner, scalability is the capacity to increase or decrease performance and cost as needed. Some situations that trigger scaling (up or down) include:
Notable changes in the number of users,

Significant increases in the amount of data processed,

A higher or lower quantity of units manufactured or distributed, or

Increased/decreased weight of a load (both literal and figurative).
Examples of scalability are when a company increases sales substantially without employing more staff or incurring higher overheads, or when the startup adds capacity that makes it possible to double output when required without causing obsolescence and waste when it's not required.
Scalability Engagement Models
You can achieve scalability by applying one or more of several different models:
Team-Based Model
Scaling a team occurs when your revenue increases without a higher cost of operating the team. It's easy to fall into the trap of simply hiring extra staff to handle the extra throughput, but that increases costs correspondingly and doesn't benefit the bottom line. Achieving true scalability with this model requires you to find ways to enable your current team to do the work. This could be through:
the deployment of technology,

improved training,

incentivization,

enhanced management methods,

increased purpose and direction,

flexible working options,

or any combination of these and other ideas.
With this model, you won't be left with an expensive staffing surplus if the need for throughput drops back down. Instead, you'll just be back to where you were.
This model is particularly appropriate for growing small- and medium-sized businesses who value their employees and can't afford to spend time and money hiring and training new staff.
Project-Based Scalability
One of the ways in which you can make scalability part of your startup's strategy is to use a project-based model, which is a time-bound method of working in which the company uses an outsourced vendor who has the necessary expertise. Responsibility to deliver the project rests with the provider.
This model is best used for:
larger businesses with limited in-house development capabilities,

software projects that fall outside of the company's core products or services, or

projects with requirements that are unlikely to change during development.
If you have a clear picture of your development project, handing it off to an outsourced project team gets it off your plate entirely, minimizes your risk, and requires less responsibility for your staff.
Consulting Model
With this model, the company gets access to expertise that's not available in-house, such as strategic advice, architecture, UX design, and security assessments. You'll outsource these functions on a consulting basis for a fixed price over a specific time period. The consulting service will:
analyze your goals, objectives, and challenges,

work with you to define your requirements,

choose the right architecture to solve your business problems, and

improve efficiencies and manageability.
Consulting services typically include ideation, alignment of business requirements, product design and development, implementation, training, and security. At delaPlex, we also offer process improvement at every stage of the life cycle and maintenance of your new product on an ongoing basis.
Staff Augmentation Model
The staff augmentation model is the simplest of all the scalability models, in that it enables you to extend your existing human resources with outsourced workers. Effectively, you're borrowing your outsource provider's talent for the period you need it for. You retain ownership of the project as well as responsibility for supervision of the extra staff, and the level of innovation by the outsourced partner is quite low.
This model allows you to increase your output while searching for suitable workers and downscale when you find them, which means good cost-efficiencies in HR and operations. At the same time, you will:
get access to top talent at a fraction of the cost of employing them,

minimize your recruitment headaches, and

reduce the expense of onboarding new workers and providing infrastructure for them.
This is a good model for companies that have an in-house development team and strong technical leadership, particularly if these lack specific skills or expertise. If your project is urgent and you need to fast-track it, augmenting your staff will help you make it happen.
How Burn Rate Affects Scalability
Burn rate is the length of time it takes a company to operate until it runs out of investor money. A low burn rate means the company is more sustainable, while a high burn rate means it's potentially in trouble. Perform a gross cash burn analysis by subtracting the amount you spend each month from the revenue you bring in during the same month. Determine how long your cash will last by dividing cash on hand by your cash burn rate, and you'll know how long your cash runway can last before you can no longer survive.
How Scalability Can Increase Funding
Few investors will fund a company with a high burn rate, which means it could be difficult to grow the business at scale, according to the Corporate Finance Institute. This makes it particularly important to ensure your processes support scalability, so you can take on more work and generate higher revenue without increasing your costs. Ultimately, this makes the company an attractive vehicle for investors, and you'll be better able to secure the funding you need for growth.
By making scalability a part of your startup's digital strategy, you'll be able to:
Do more with your existing company resources

Bring your products to market much faster than before

Improve your customer's experience significantly

Reduce your technology development costs by having fewer, more efficient teams working on them

Attract the right people to give your company the competitive advantage it needs.
Scale with delaPlex
All this is possible when you have the right IT partner for your startup journey. At delaPlex, we make scalability simple and streamlined by providing a team of experts who become an extension of your workforce. Our resources are flexible, so that as your project evolves you can scale accordingly.
Want to learn more about how delaPlex can help you? Contact us today to discover how our Agile Business Framework™ can help you achieve your dreams and goals for your company.