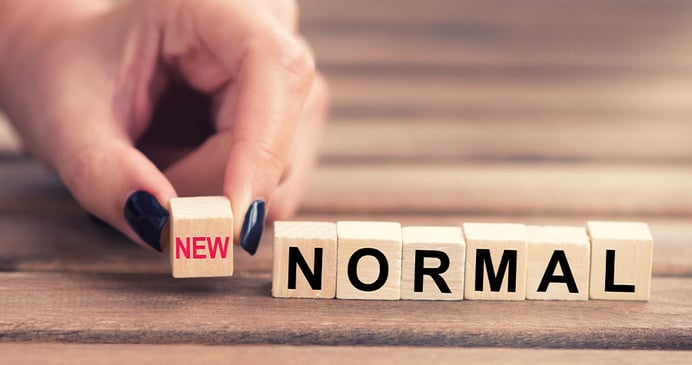 While the COVID-19 pandemic brought many events, projects, and daily activities to a screeching halt, it also opened up valuable opportunities for digital business development.
The past few years have prompted rapid acceleration, and new opportunities as brands reimagined their operations to continue serving their customers – with curbside pickup and enhanced online shopping options or new streaming services like Paramount+ or Peacock.
These changes significantly leveled the playing field for digital growth. But as the speed of innovation increases and technology leaders ride the wave of recent initiatives, how can your organization accelerate growth and get ahead of the competition?
Enter: Digital Transformation.
When executed correctly, a digital transformation project can help you adapt to recent industry changes and rise to meet your consumers' ever-evolving expectations. In fact, your transformation may even allow you to anticipate and satisfy emerging market needs before your customers, or your fiercest competitors, even realize them.
To understand the future of digital transformation, we first need to zoom out a bit and dive into the details of this well-known buzzword. In this post, we'll define digital transformation, outline historical approaches to innovation, and explore the formula for digital success and the future of digital transformation in an economy that was reshaped by the pandemic.
What is Digital Transformation?
For many, the word digital transformation sparks carefully crafted visions of highly disruptive technology – like flying cars or fully autonomous, A.I.-powered robots. It's easy to look back on the very first iPod or iPhone and consider the cutting edge hardware, software, and technology advancements that made it all possible.
We often see digital transformation as a technology-focused initiative: implementing new technology or a set of solutions to improve a business model or increase revenue. However, the future of digital transformation actually leans in the opposite direction.
Digital transformation means transforming your business to better meet your customers' needs. It's all about changing your business model to align with your customers, then leveraging technology to help you get there.
In the Past...
In the 90s, technology giants emerged and rushed to dominate the market as consumer demands evolved and digital adoption changed the way brands conducted business. Many organizations introduced IT solutions at scale to achieve a variety of high-level goals, such as:
simplifying internal processes

enhancing marketing

improving customer experiences

streamlining communication
We saw the rapid adoption of ERPs, B2C eCommerce, digital point-of-sale systems, and many other groundbreaking innovations that emerged during the rise of the internet and mobile technology.
Many organizations saw the tech-enabled acceleration of the last millennia as merely the tip of the iceberg. They continued heavily investing in their R&D and technology teams through the early 2000s. Unfortunately, once-new technologies quickly became outdated, legacy solutions, leaving businesses focused on the wrong problem.
By over-investing in tech-heavy projects, brands lost sight of their consumers and the market around them. In fact, 80% of transformations in the last ten years failed to reach their goals — equating to roughly $900 billion wasted along the way.
For better or worse, 2020 and 2021 effectively flipped the script for digital transformation. Innovating quickly developed from an optional, secondary focus to a must-have for any business that wanted to stay afloat in a market that was disrupted to the highest degree.
Now, organizations want to capitalize on that disruption, both internally and across their target markets. Many industries are ripe for change, and everyone is competing for a spot at the top.
In the Future...
The biggest reason brands don't succeed at digital transformation is because they aren't truly prepared to change their behavior.
While leadership staff may champion innovation and disruption at a high level, they likely aren't willing to let go of their passion projects or past successes in order to champion new ones. They'd love to build a newer, better, faster product, but they haven't stepped back to consider if the vision in their minds aligns with what their customers want or need.
When really, digital transformation exists in a landscape of constant change. Technology is growing at an exponential rate. It's also become a worldwide commodity rather than an emerging luxury. The differentiators of years past are now expectations in daily life – like mobile responsiveness, app-based interfaces, real-time connectivity.
As tech is commoditized, customers' demands are rising quickly while their decision-making time rapidly decreases. Everyone wants the best experience, every time, but they have less time to decide which brand to entrust with this expectation. The solution? Intuitive products and services tailored to their needs, wants, and behaviors, with a reliable service model that ensures consistent delivery at every touchpoint.
How To Achieve Long-Term Success
No matter your industry, position, or target market, you've likely found yourself wondering, "when will the world go back to normal?"
The truth is, our old "normal" shouldn't be part of our future roadmap. Rather than waiting for the pendulum to swing back in the opposite direction, organizations and digital leaders need to look ahead and start building the foundations of their future-focused transformation projects with the following tips in mind:
Keep the focus on your consumers. No matter how unique a new technology might be, you simply can't succeed with a product or solution that no one wants. Rather than letting competitor activities or internal aspirations guide your transformation efforts, keep your end-users at the center of every conversation. Invest in market research, focus groups, and customer feedback, even if it means stepping outside the lines of your typical wheelhouse.

Avoid working in the dark. A surprising number of digital transformation projects fail simply because leadership teams never communicated a clear vision down the chain of command. Before you take a single step towards your end goals, ensure your teams understand the 'why' behind the project. Clearly communicate strategies, action plans, and outlooks across every department in your organization.

Don't let internal politics cloud your vision. Stakeholders often turn down a new opportunity or idea because it didn't originate from their department. True leadership requires a focus on the success of your brand, not your individual performance. Winning the game is more important than who scores the goals.

Move away from the "technology first" mindset. Disrupted companies can't transform because they're too focused on R&D and technology. Disruptive companies succeed by focusing on leadership and customer-centricity. By outsourcing your IT efforts, you can maintain a clear focus on the heart of your true transformation: your consumers and your company culture.
Looking for the full playbook on digital transformation?
In our on-demand webinar, Digital Transformation 3.0, Digital Transformation Consultant Tanvir Bhangoo shares all the details on where technology innovation is headed in 2022 and beyond. Access the recording online today to get the details.
Learn more about how delaPlex can help you? Contact us today to start the conversation.