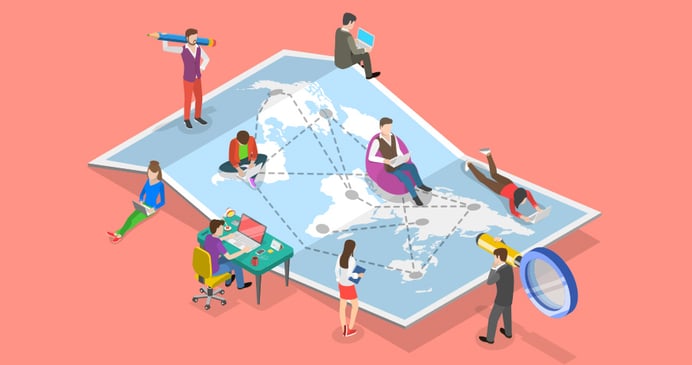 While remote employment options have existed for over a decade, COVID-19 rapidly turned remote work from a potential alternative to an absolute necessity. And even as we wind down from months of COVID regulations, 78% of CEOs agree that remote collaboration is here to stay for the long term.Remote or distributed teams are typically more flexible and productive than in-person ones. Plus, hiring a remote workforce means access to a diverse talent pool with fewer limitations based on physical geography or nine-to-five availability.
Whether you're building a remote plan or already working remotely, effective virtual collaboration requires significant internal planning and preparation.
In this post, we'll walk through high-level recommendations to help you create a healthy remote work company culture that enables team members and leadership to work effectively from afar.
Create a Remote Work Framework
A remote or hybrid work model can significantly increase your team's productivity and agility, not to mention promote a healthier work-life balance and diversify your staffing with talent from across the globe.
However, streamlined remote work typically doesn't happen naturally when you send everyone home from the office or hire your first out-of-state employee. And poor planning is the most common reason organizations 'fail' at a remote work model.
If you're already working remotely and you haven't defined KPIs and high-level strategies, it's not too late to go back to the drawing board. Create a strategic framework that defines critical elements of your proposed working model. This should include:
How you'll measure employee, department, and company performance

Whether you'll adopt a hybrid, distributed, or fully remote model

The tools and techniques you'll use to communicate

What expectations you need to set with employees upfront
An ad-hoc approach to virtual employment may not leave your organization in turmoil, but it could hold your teams back from full productivity. As you create your remote work plan, get input at every level of your organization, from leadership staff to your newest employee.
Your remote work plan doesn't have to mirror the one your competitor uses or the guide you found online. Instead, you should customize your framework to your organization and your team's unique talents, needs, and limitations.
Implement the Right Tools
Dynamic tools form the foundation of successful remote work company culture. As you research your options, don't default to the most popular software on the market. Instead, explore each platform's included and add-on features to decide which option best fits your business needs. In general, your remote work toolkit should consist of the following capabilities:
File Storage: first and foremost, you need a cloud-based drive or similar file storage and sharing system. Prioritize real-time collaboration, version history, custom sharing permissions, and cybersecurity features as you shop for a new solution or assess your existing tools.

Video/Audio Conferencing: your meeting platform should offer conferencing by computer, tablet, or mobile dial-in. Popular tools like Zoom include cloud recording and transcription features, while you can bundle MS Teams with Office 365 to streamline your internal operations.

Communication: connectivity is critical in a remote environment, and emails aren't always the best medium for quick conversations or time-sensitive requests. Instead, leverage an instant messaging tool that allows for real-time communication across your teams.
As you evaluate each capability individually, look for opportunities to unify your toolsets wherever possible. For example, you could use Google Drive for file storage, Google Meet for conferencing, and Google Hangouts Chat for internal communications. Streamlining operations is highly beneficial, as long as working with a single vendor doesn't introduce new hurdles or inefficiencies in other areas of your business.
Prioritize Transparent Communication
Regardless of the channel or subject matter, communication is a make or break for any type of collaborative work, whether virtual or in-person. As you leave behind casual breakroom chats or sporadic collaboration in a traditional office, keep communication top of mind across teams and workstreams.
Successful communication doesn't happen automatically. You'll need to define clear guidelines around:
Each employee's expected availability

Where to share status updates or changes in availability

How to escalate concerns when specific teams are offline

When to expect turnaround on internal communications
The sooner you establish these expectations, the less you'll run into the sharp learning curve associated with virtual connectivity. This approach also prevents project delays if a colleague goes dark unexpectedly.
You'll lean heavily on the communication and conferencing tools you choose, but you should also facilitate several touchpoints throughout the week for routine check-ins. Schedule a mix of:
Project-focused updates and team status reports

Team-level company updates

One-on-ones between employees and managers

Casual, social interactions that aren't tied to 'work talk'
These events will help you stay on top of deadlines and deliverables, but they'll also keep personal connections alive across distributed teams.
Encourage Flexible Work Styles
It's easy to assume that every employee in a traditional office follows the same work style – sitting in an office or at a desk, typing away on their computers, and connecting with clients over the phone. However, even in a relatively rigid environment, everyone has a unique work style.
As you implement remote work, you'll uncover new ways to support your employees' personal preferences and peaks in productivity. While clear expectations are critical to success, it's crucial to strike the right balance between leadership and micromanagement – and tracking everyone's mouse movements likely leans too far in the wrong direction.
Productivity doesn't mean everyone needs to be online all the time, and extended work hours often lead to massive burnout anyway. Give your team the freedom to define their own work schedules, with certain pre-defined caveats to ensure you're able to deliver work on time and serve your clients effectively.
No matter what flexible work time looks like at your organization, create clear communication standards to keep teams accountable and ensure everyone is on the same page. Yes, you can implement unlimited time off or flex hours, but that doesn't mean your employees can disappear for hours at a time. Instead, create a set of expectations around time off – like a company-wide Slack notification or PTO calendar to ensure complete visibility.
Remote collaboration requires a mix of industry expertise, best practices, and reliable communication tactics. We recently partnered with our friends at Catapult to explore the past, present, and future of remote work in the webinar, Cultivating a Healthy Remote Working Culture. Access the on-demand recording now to explore industry insights and get expert tips on how to make remote work a success in your organization.
Learn more about how delaPlex can help you. Contact us today to start the conversation.