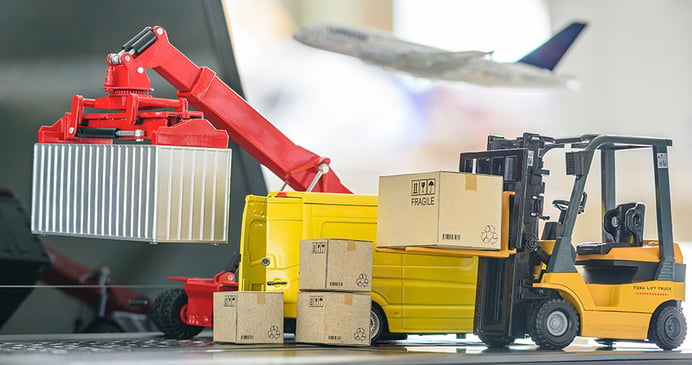 In today's business environment, it's more important than ever to prioritize analyzing your supply chains operations, to understand where changes are needed or take action to mitigate against future disruptions. With so much uncertainty and disruption, companies must be proactive to maintain operational efficiencies, service levels and drive down costs.
Eighty-four percent of CFOs at organizations with annual revenue between $100 million to $3 billion see supply chain disruptions as either a moderate or severe risk.
Modern supply chain operations are rooted in efficiency, visibility, and proactivity. By focusing on these critical areas, companies can ensure that their supply chain runs smoothly and efficiently despite today's business climate challenges.
Lowering Costs While Driving Efficiency
Even before the pandemic, businesses were always looking for ways to increase supply chain efficiency and lower operating costs. Recent disruptions have made these two goals even more essential for businesses looking to bounce back from dips in the market and accelerate their digital transformations.
Hidden inefficiencies can originate from several links in your supply chain, like staffing overages, tedious manufacturing processes, or recent losses from the pandemic. The good news is that data and analytics tools can help you identify areas of inefficiency, then chart a path toward more streamlined operations.
Supply chain optimization technologies like warehouse management software give you complete visibility into inventory levels and sales metrics, so you can identify which products are the most profitable, and which ones sit on the shelf gathering dust.

Another way to reduce costs is by leveraging automation. Warehouse automation is the process of automating the movement of inventory into, within, and out of warehouses with minimal human assistance. As part of an automation project, a business can eliminate labor-intensive duties that involve repetitive physical work and manual data entry and analysis.
Before you invest too heavily in automation, you need to know which tasks and workflows will see the most benefits from these technologies. Consider taking a deep dive into your existing supply chain workflows to
Evaluate your current processes and employees' feedback about them,

Identify opportunities for improvement and efficiency increases,

Determine where you can automate or outsource supply chain operations,

Implement best-fit software to support your updated processes.
Increased efficiency doesn't just help you reach strategic goals more quickly; it also frees up valuable capital and other resources you can redirect toward high-priority initiatives.

With the right software partner, you can seamlessly integrate analytics tools and automated software into the rest of your technology stack to streamline your operations without driving up costs or creating frustrating roadblocks for your employees.
Overcoming Potential Roadblocks
Even the most established supply chains are at risk for major disruption, often through inevitable roadblocks like lockdowns, regional or global disasters, port congestion, inflation, and more.

While it's often impossible to steer clear of major disruption, there are several ways you can prepare your supply chain, and larger organization, to weather the storm with minimal downtime.

Start by evaluating previous potential future roadblocks. Once you have a list of feasible roadblocks, you can begin developing contingency plans to navigate them.

These plans may include diversifying your supplier base, stockpiling inventory, or using alternative transportation methods. You might also need more intense disaster recovery plans that outline critical business operations and financial guidelines to be referenced in case of an emergency.

By taking these roadblocks into account before they negatively affect your business, companies can plan for disruptions and minimize the impact on operations.
Directing the Supply Chain Proactively
Finally, it's essential to proactively direct the supply chain to avoid potential disruptions. Combine your newly outlined contingency and recovery plan with iterative improvements and innovations that will help you get ahead of market trends and potential disruption.

Navigating an ever-changing supply chain ecosystem requires agility and proactively at every level, from your C-Suite to management teams in your warehouses or retail storefronts.
Only 22% of companies had a proactive supply chain network as of 2020.
Encourage everyone in your organization to lean heavily into data-driven solutions, and use real-time insights to drive their decisions. Promote data democratization and visibility by equipping these employees with intuitive, user-friendly management software and long-term strategies for business growth.
You can partner with a consultant to identify the most impactful ways to modernize your organization, by introducing new supply chain optimization technologies and processes.

You can also lean on historical data and in-depth market research to forecast demands in your industry or across your product line. That way, you can direct your energy toward high-demand products and prepare your organization for influxes in demand.
Adopt Right-Fit Supply Chain Optimization Technologies with delaPlex
At delaPlex, we strive to become your trusted supply chain partner. Our team understands the complexities of supply chain management and software development and continually adapts our solutions to meet ever-changing demands and new business priorities.
We've even leveraged our supply chain expertise to establish dedicated supply chain Centers of Excellence in Warehouse, Workforce, and Store Operations Management.
delaPlex can help streamline implementation and provide integrated solutions that future-proof your supply chain against disruption.
With our proven business methodology, the delaPlex Agile Business Framework™, your software is built better, tested smarter, and released faster.

Ready to see how delaPlex can transform your operations?
Contact us today to get started.